Our LED Dance Company India can help you in any project
THROUGH CREATIVITY, INNOVATION & SHEER DETERMINATION
ALIEN TRON DANCE ACT

This is a led/Tron/neon act that has an unusual look of the costume. A set of dancers (Nos 3 or 5) performs a sequence that is full of illusions, thrill, and dance on western instrumental music that has a combination of dubstep, electro and holly wood music. Best suits at corporate events and college fests.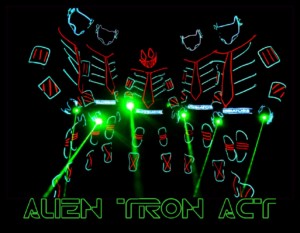 MJ/PSY TRON DANCE

Tron theme offers a very well known dance style 'Michael Jackson and also other popular dance styles like Hip hop and Gangnam style to entertain the audience. The costume befits above dance style and the performance is full of energy, illusions, and entertainment. With the set of 3 or 5 dancers, the concept is served. Best suits at the Corporate, college and carnival events.
TRON BHANGRA ACT

It's a complete entertainment package. It is a sequence that showcases an Indian folk dance i.e. 'Bhangra' with a technology art twist.
'Tron Bhangra' is an energetic performance that comprises of several Punjabi songs in the set of 3 or 5 dancers.
Best suits at the wedding, corporate, carnivals, and fests.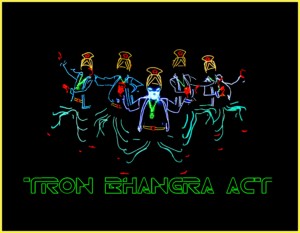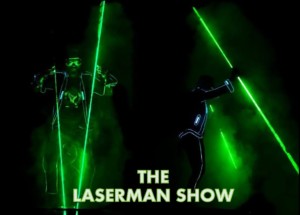 LASER MAN SHOW

This is a completely different show. The 'Laser man' is done by a single performer. A beautiful and tech look of green lasers gives a thrill and joy to the viewers. The Laser-man show includes interactive lasers and instrumental music.Best suits at the Corporate events, college fests and carnivals.
LED WALL MAPPING

'LED Wall mapping' or also called 'animatronics'. This is the act that is performed with the help of LED wall screen. Tron dancer performs an interactive act with the set of graphics played on screen.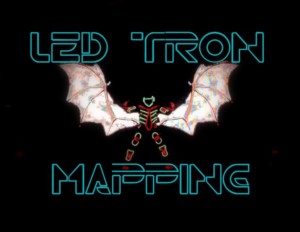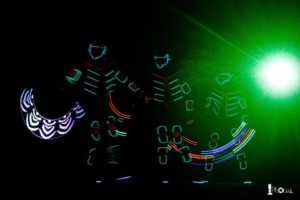 PIXEL POI

'LED Wall mapping' or also called 'animatronics'. This is the act that is performed with the help of LED wall screen. Tron dancer performs an interactive act with the set of graphics played on screen.
DRAGON(CUSTOMIZEDACT)

The Glowdiators featured in a reality show named 'Hindustan ka Hunarbaz', with a very innovative concept of 'Dragon Tron', like several acts 'The Glowdiators' again stood first and the only team to perform an animal Tron act. on television. A storytelling dragon Tron is a wow act that has a lot of action and emotion throughout the act. Best suits for carnival and theatre shows.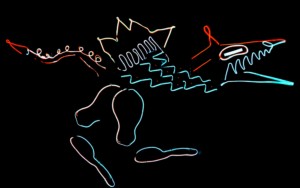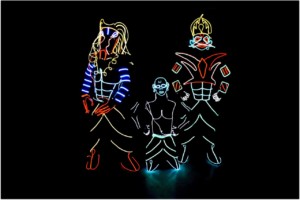 INDIAN HISTORICAL ACTS

India has a wide culture and many historical and mythology stories to learn from. It's again the first time in the world that such stories have been remembered and performed in 'LED TRON' theme. We as a team take that pride. Many more theater acts can be designed by 'The Glowdiators'. Best suits for carnival acts and theater acts
HEAD-TRON ACT

In many events and live shows, the celebrity appearance or any known face is being invited. But, to give that entertaining twists we, 'The Glowdiators' has designed a show concept known as 'Head-Tron'. Unlike other Tron costumes, 'Head-Tron' is performed only with headgears, a light panel enabled helmet. Throughout the performance, a focus on the celebrity/guest is maintained as well the illusion of headgear is kept in action.
Best Suits at the live shows, Television shows, Celebrity appearance, wedding entry (groom/bride)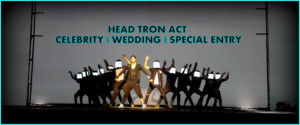 How We Work
The level of commitment from the LED Dance Group at Glowdiators is unparalleled in the industry. With the best Tron Dance Choreographer and the most energetic Dance Group in Delhi, we tent to blow minds and illuminate your lives forever. We understand the requirement and fulfill all your needs in a Glowing and LED Tron Dance kind of way with our team of specialists. Our mission is to bring joy and brighten up your brand like the star it is supposed to be.
CORPORATE CHOREOGRAPHY
The Glowdiators has the assets, innovation and creative skills required to execute and bring your ideas to the world with a gripping and never seen before performance.
WEDDING CHOREOGRAPHY
Be it Corporate functions/branding, Wedding Choreography, birthday bash, or any other live event, our Led Dance Group demonstration has it all covered.
REGULAR CLASSES
Our Creative team is the most competent in the entire industry to customize any act and make it revolve around your brand.
ONLINE CLASSES
We as a whole would like to compliment the Indian Film Industry for initiating the LED Dance wave with the popular melody 'Sara Zamana' from the movie Yaarana.